CONCRETE SOLUTIONS FOR CONCRETE PROBLEMS
SERVICES
Our services include failure analysis, forensic investigation, pre-job evaluation, and the effective examination of concrete, aggregates, pavers, blocks, pre-cast concrete, pre- stressed concrete, self-consolidating concrete (SCC), and other Portland cement based products as well as a variety of construction products including applied shake hardeners, grouts, horizontal/vertical/overhead patching materials, coatings, applied curing compounds, and applied sealers. Objective observations are backed by our timely, straightforward, easy-to-understand reports. Additional questions and interpretations are prompty analyzed and discussed in detail as required.
PROBLEMS TREATED
Common symptoms that may require the Rock Doctor's expertise include: lower than intended compressive strength, surface phenomenon including scaling, premature wear, delamination, blistering, cracking, pop-outs, efflorescence, staining/discoloration, and other problems.
EXAMINATION TECHNIQUES AND METHODS
A standard Petrographic examination of hardened concrete includes:
"Top-to-bottom" observations, including finishing effects, carbonation, and general sample condition
Cementitious Matrix
Air-Void System properties and characteristics
Coarse Aggregate
Fine Aggregate
In-depth discussion of observed features as related to the reported problem
Conclusion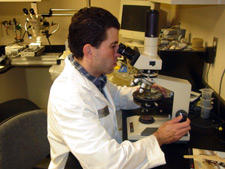 ASTM C856-04 Standard Practice for Petrographic Examination of Hardened Concrete. Overall Composition, Quality Of Concrete, and Future Performance.
ASTM C457-09 Standard Test Method for Microscopical Determination of Parameters of the Air-Void System in Hardened Concrete. Air-Content and Air-Void System Parameters of Hardened Concrete.
ASTM C295-08 Standard Guide for Petrographic Examination of Aggregates for Concrete. Examination of materials proposed for use as aggregates in cementitious mixtures or as raw materials for use in production including natural and artificial materials.
DIAGNOSIS
Our custom Petrographic examinations are valuable and powerful tools for the evaluation and diagnosis of:
Mix proportions
Degree of mixing
Placement issues
Workmanship effects
Carbonation/proper curing
Frozen concrete while plastic
Retempering
Freeze-Thaw distress of paste and aggregates
Deleterious reactions
Internal/external attack including alkali-silica reaction (ASR)
Pre-job analysis for existing structures to foresee and prevent potential problems
BENEFITS
These professional services provide our customers with insight and understanding to efficiently and effectively assess current difficulties, improve and optimize everyday business activities and operations, and develop future opportunities.
Additional expert professional services and forensic investigations offered are technical report reviews, jobsite surveys, litigation support, and expert testimony and witnessing. These assist the customer involved in or potentially involved in construction claims, disputes, and/or litigation. By carefully considering and gathering vital information crucial to these potential claims or litigations, my expertise will be utilized to assess the situation, understand the root cause(s) of deficiency, and advise my customer on how to best resolve the situation in their best interest.
Please review our case studies or ask the doctor to see how our approach will work for you.